Hazardous Materials Technician – Week 4 – ATPC 508 – March 2021
March 16 @ 8:00 am

-

March 19 @ 6:30 pm

$250.00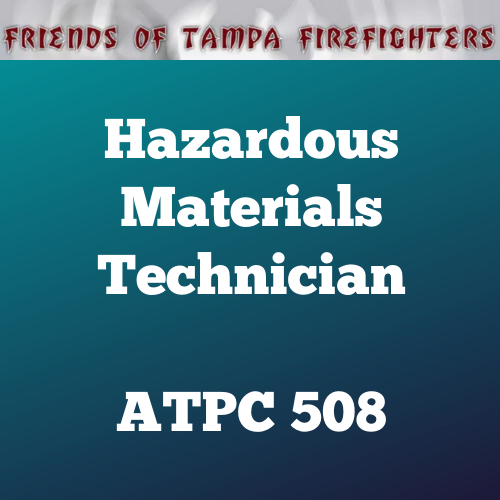 THIS IS A 160 HOUR CLASS – ALL 4 WEEKS MUST BE ATTENDED TO RECEIVE A CERTIFICATE OF COMPLETION
The objectives of the course are to teach participants: to classify, identify, and verify known and unknown material by using field survey instruments and equipment; to select and use the proper chemical protective equipment provided to the hazardous materials Technician; to understand hazard and risk assessment techniques for Hazmat and CBRNE environments; to be able to perform advanced control, containment, and/or confinement operations within the capabilities of the resources and personal protective equipment available; and to develop action plans within the parameters of the State plan for a statewide response to WMD events.
Students are responsible for purchasing their own book for this class.
REQUIRED TEXTBOOK: Hazardous Materials:  Managing the Incident REVISED 4th Edition
ISBN# 978-1-284-18834-9
This book will be used for the entire series of hazmat classes and includes quizzes and testing material.
---
Hazardous Materials Technician – Week 4
Date: March 16-19  2021
Time: 08:00 – 18:30
LOCATION: Tampa Fire Rescue Training grounds 116 S. 34th St., Tampa, Fl 33605